Vintage Vehicles, Inc. Garners National Award For Owners of Restored 1932 Auburn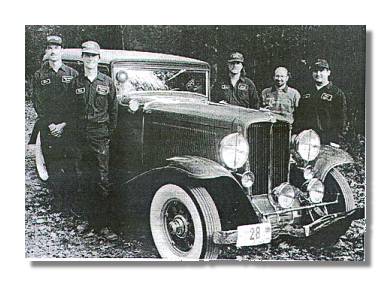 Vintage Vehicles restores car to award-winning condition Vintage Vehicles Inc.
of Wautoma recently finished restoring a 1932 Auburn to an award-winning condition.
Employees who helped restore the car included: Bruce Girdauskas, Paul Girdauskas,
Adam Smith, John Basso, and Toby Parsons. Gil Girdauskas (not pictured), founder
of the company, also.
Vintage Vehicles Inc. of N1940 20th Drive, Wautoma, have been in business since 1976, restoring antique and classic cars. This family operation has been nationally recognized for the past 20 years and recently they finished restoring a very special car, a 1932 Auburn 12 Cylinder, Four Door Sedan.
The restoration was a four-year project for owner Doctor and Claire Flannery, Wausau. Recently the Girdauskas family and their professional assistants at Vintage Vehicles Inc. completed the Auburn just in time for the Flannerys to trailer it to Auburn, IN, the original home of the Auburn/Cord/Duesenberg Company which manufactured the Auburn, Cord and Duesenberg from about 1927 through 1938. These were all hand-built custom vehicles of high quality.
Each year a major auto show of these classics is held and judging of many of these models, which have been meticulously restored and from all parts of the country. This was the first major classic auto show for the Flannerys. Hauling the car (in an enclosed trailer) to Auburn was a first for the Flannerys, as was the unloading, the final polishing and preparation and lining up their freshly restored Auburn for the national judging.
The Flannery Auburn was judged Best in its class and awarded Best of Show in the closed car division. Their name is engraved on the huge, permanent, Best of Show Trophy exhibited at the Auto Museum in Auburn. Needless to say, the Flannerys and Girdauskas are immensely pleased and elated. "Every nut and bolt was removed and a total frame off restoration was completed on this great classic are," said Paul Girdauskas.
His brother Bruce, added, "This car took four years of effort but now with the Best of Show award, it was worth all he detail work and the Flannerys are great to work with."
All six of the Vintage Vehicles people worked on the car in on phase or the other. The company has built a national reputation for quality work. A number of cars that they have restored for clients have won National awards. As an example of how far-flung some of their customers are, they have restored three cars for clients from Alaska and one from Germany.
One of their other specialties is restoring automotive stainless and aluminum trim for other restoration firms and individual restorers and other restoration shops around the world. Their modern air system sanding, polishing and buffing equipment and expertise keeps that department very busy restoring hub caps, grilles, stone guards, beauty rings and other stainless and aluminum and specialty chromed parts from antique and classic cars and trucks, bringing them back to original condition and luster, then shipping them back to their customers.
The company also does partial restorations, assisting owners in getting old cars, trucks and motorcycles back on the road again. Another specialty is the total rebuild of antique and classic car engines. They have the machinery and capability to make parts that are not available and they set up their restored engines to run on unleaded fuel (many of the early cars engines were designed to run on leaded fuel, which is now unavailable).
The owners of Vintage Vehicles Inc. have a personal collection of cars, some of which can be seen in the Blue Ribbon Section of the Old Cars Weekly Annual Car Show, which is held in Iola, such as their 1934 Packard V-12, a very rare 1917 Locomobile Sportif (winner in its division at the 1998 Custom Bodied Car Show held at the National Gilmore Museum in Michigan); a 1928 Pierce Arrow rumble seat Coupe (first place winner at the Annual National Pierce Arrow Show, which was held in Duluth-Superior and the Pierce took also first place at the Antique Automobile Club National Meet held in Milwaukee in 1996); and a 1969 Buick Electra Convertible.
These cars are driven by the Girdauskas and are often seen summer months on the streets of Wautoma and the scenic back roads of the Township of Marion. "The greatest joy in owning an antique automobile after restoration is driving it" is the motto of the Girdauskas family.
Some of the antique and classic vehicles under restoration in the Vintage Vehicle shops include a 1936 Packard Eight Roadster, 1937 Super Eight convertible, a 1937 Cord Sedan, a 1938 Convertible Sedan V-12 by Packard (for a customer from Mannheim, Germany), a 1959 Chevrolet El Camino and a 1962 Pontiac Gran Prix. "Some of these vehicles will take as much as 3,000 hours to restore to their original, pristine condition, most cars of this vintage have 15,000 parts," stated Paul.
Gil Girdauskas, father of Paul and Bruce, said, "The variety of cars we work on makes our life and work both rewarding and interesting."
Gil Girdauskas is a first generation American (his folks came from Lithuania to America in the early 1900's). His folks never owned or drove a car; he thinks that is why he was and still in in love with automobiles. After his stint in the U.S. Navy (on destroyers during WWII in the Pacific), he went on to college.
He worked at WTMJ-TV Milwaukee as a Floor Director, later he worked for a number of advertising, real estate and newspaper firms and eventually opened his own advertising and promotion agency (restoring automobiles on a part-time basis).
His first auto restoration was a 1922 Ford Model T Roadster back in the 1950s. After operating his agency in Florida for a number of years, he sold it and moved to Wautoma and started restoring antique and classic cars for insurance or estate-value purposes. His sons, Bruce and Paul, now operate Vintage Vehicles Inc. with three professional assistants. Gil assists them during the summer and "as need." He and his wife, Terry, spend the winter months on Edisto Island, a barrier island on the Atlantic in South Caroline. Two other children, Brian and Kathy, live in South Caroline. Terry and Gil say they are "at home in both areas of the country."