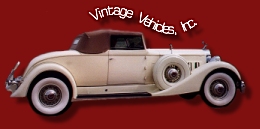 Vintage Vehicles Guest Book
Would you like to sign or add a comment to our Guest Book? CLICK HERE
Our Guest Book is updated weekly
GUEST BOOK ENTRIES
08/21/10 3:11 PM

Thomas Murphy

Greetings Bruce, Tim, and Paul,
Received my stainless fenders and now have them mounted on my 1969 Triumph TR6C 650, your work is just amazing. Considering the hopeless condition they were in, you wouldn't know they were the same parts. This is the third or fourth set I've sent to you and I get many compliments on your fine work when I show my bikes. I can't thank you enough for your super talent and expertise.

---
08/10/10 4:30 PM

Jim

Thanks for a great tour of your facilities. I had you restore my Packard parts a while back and I was very pleased with the result. Thanks for the work and courtesy.

---
11/29/09 12:27 PM

Steve S.

Last year Paul and the guys did my headlight and taillight mouldings for me on my 68 galaxie 500. They came back better than factory -- strongly recommend!!! Contact me if you want/need a recommendation. Thanks guys!

---

08/15/08 6:12 PM

J. Burgy

Thank all of you at Vintage Vehicles for the great stainless restoration you have done on my 1969 Charger (aluminum and stainless) and the chrome restoration and completion on my Pierce Arrow. I couldn't believe the way the work turned out. I'll recommend you to every car nut I know. Thanks again Bruce, Paul and Tim!

---

10/25/2007 02:18 PM

James Harden

You did my 1924 T partial restoration. It now looks like it came from the factory new! Thanks for your great capabilities and prompt turn around. I'll be sending you my stainless from my Jaguar. Let me know when it arrives. Thanks to Bruce, Paul, Tim and Evan.

---
08/19/2007 06:25 PM

Carl Harrold

Had aluminum trim from a 1965 Plymouth Fury III convertible restored back in the late '90's One piece was cut almost in two, when I got it back I could not tell which part had been welded back together. These guys do the most amazing work I have ever seen. When all 19 pieces were finished I went and picked them up and had to be shown were the repairs had been done. These guys are the best I have ever found. Thanks Vintage Vehicles for you EXCELLENT work. Thanks Carl Harrold

---
12/16/2006 10:32 PM

Frank Dorsett

Hi Vintage Crew: Just got back my stainless and chrome (for the 35 Packard) Unbelievable! Look like new. Thanks a million. More work coming in near future. Frank Dorsett

---
04/26/2006 04:25 PM

Tim Johnson

You guys and your work are fantastic.....keep it up, there are few proffesionals left in our field of old cars and their restoration. Tim Johnson

---
04/23/2006 09:57 PM

Kumar Punchihewa

Superb restorations! Please accept my Congratulations on your achievements. My Best Wishes for continued successes in future.

I am in the process of restoring a DKW 3=6 Sonderklasse F91S Model (Manufactured 1954) and shall be pleased to know whether you could be of assistance. Thank you.

Best Regards,

Kumar Punchihewa
Colombo, Sri Lanka

---
02/23/2006 02:53 PM

Vernon Smith

Awesome web site, and I would like to thank Bruce for taking the time to discuss a potential purchase of a 48 T&C.

Vernon Smith
Newfoundland, Canada

---
05/26/2005 03:38:52 PM

E.G.B.

Your chrome alumin and stainless steel restorations look beatiful on my chevy. It is AWSOME. e.g.b.

---
07/11/2004 07:55:53 PM

Richard Shinnick

Looked for you at Iola. Would like to visit your place sometime. We have a family cottage on Silver Lake.

---
05/30/2004 10:01:02 AM

Kenneth L. Patterson

Just seen your ad in the Old Cars Weekly News and Marketplace. Need some rechroming done.

---
05/21/2004 10:09:45 PM

Richard Precht

Saw the ad in Hemmings Motor News...came here to look at your site. We sell reproduction parts for 1940 up cars and trucks. Please give us a look sometime? Thanks! Rico

http://www.ricos-rods-and-relics.com

---
04/16/2004 11:31:17 PM

Name: Jim Walther

Heard you guys restore street rods. Got this from the grapevine (I know you do a terrific job in antique and classic car restoration). You ought to advertise that you do partials or completes on rods. I've been sending you trim work and it is great what you do. your friend, Jim

---
02/28/2004 09:25:54 PM

John Pratt

Just recieved the restored stainless and aluminum trim for my classic car. WOW!! Unbelievable results! And right on schedule as promised! Thanx! John

---
02/14/2004 08:33:11 PM

Matt Deblanc

The chrome repair and replating is better than I thought. The parts were ready for the garbage can and you said let us see them! What a smart call. I should personnelly write every Mopar owner and tell them to send the parts to you. Thanks again. My next restoration just got easier and better!!. Matt D

---
02/5/2004 11:48:44 AM

Tom Murphy

Greetings Bruce, Tobey & Paul I wanted to let you know, the stainless steel fenders you restored for my 1968 Triumph Bonneville, fit perfect, and look great. The extra holes that were filled are very well done, you have to "hunt" to see where they were. I was a little concerned that due to the location, they might not line up properly, but you guys hit them right on the mark. If there is any critique at all, I'd say those fenders are too nice! and they look beautiful. If you wish, I will email you a shot of the bike when it is completed. Thanks so much, and keep up the fine work!

Tom Murphy Honda
St. Johns Portland, Oregon

murphyt@hondastjohns.com

---
01/16/2004 10:49:38 PM

George Gottschalk

You've got a great restoration shop there Bruce and Paul and Toby...thanks for the tour. I'll bring my stainless for my 57 Chevy soon. Regards, G. Gottschalk

---
12/23/2003 09:52:56 PM

Dale Obermeier

I'd like to thank you for the excellent chroming you did for my Indian scooter. Keep up the good work. It's nice working with people who enjoy what they do and make you feel welcome. I'll be back. D.O.

---
11/10/2003 05:35:10 PM

Frank Goodsen

Wow! Just got back the stainless and chrome you restored for my car.......looks like new; can't wait to put it on. These final touches should prove a winner. Thanks, it's been a great trip doing business with you! Frank and Marie Goodsen

---
09/17/2003 09:02:27 PM

Austin Gooduwe

Your work is some of the finest around. The webpage is alright too. Keep up the pace. AG

---
08/8/2003 05:32:29 PM

Dirk Gilbert

Thanks so much for making my stainless and aluminum trim parts look like new. I will start to feed the chrome to you this fall. I know ,without a question this is the finest polishing I have ever run across. The car is going to be a winner. Talk to you soon.

---
06/21/2003 12:00:20 AM

James and Loretta Johnsen

Thanks for the tour Paul. That's a great operation you guys have. Looking forward to my chrome and stainless parts being completed. I know they'll be excellent when you get through with them. Are you looking for more help? I sure would like to work for you. Jim Johnsen

---
06/20/2003 11:57:10 PM

Jim Hertz

Hi Bruce, Paul, Toby etal: What a neat place you have, and what great work you do! Had to tell you how wonderful the Corvette came out. Will be sending you pics of the car for your bulletin boards. Regards, Jim Hertz P.S. My wife thinks you're great too!

---
06/20/2003 11:54:47 PM

Frank Meriman

It was a pleasure seeing you and your work! I've never seen a cleaner operation than yours. The restoration you completed on my difficult Cord trim is outstanding. Thanks for helping us old car nuts out! I'll be sending more work for you soon. Frank Meriman

---
06/11/2003 10:30:58 AM

Nelson Kyle

I really like your webpage. I know your work and the webpage is just a small example of your capabilities.Keep up the great work! Talk to you soon.

---
05/28/2003 05:51:04 PM

Sam Johnson

Thank you for the great work and very fair price. The turn around was just what you said and the quality of work was second to none. SAM

---
Vintage Vehicles Inc.
N-1940 20th Drive
Wautoma, Wisconsin 54982
Call: 920-787-2656 Weekdays: 9 AM to 4 PM CENTRAL TIME

or

Email: vintagevehicles@centurytel.net


[About Us] [Trim Restoration] [Work In Progress] [Parts For Sale] [Previous Restorations]
[Vehicles For Sale] [Brochure] [In The News] [Contact Us] [Guest Book] [Links] [Home]


Vintage Vehicles, Inc.
®

©
1999 All Rights Reserved